Hot Food to Takeaway
Open 7am - 5pm Monday - Saturday, 8am - 2pm Sunday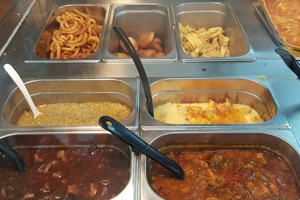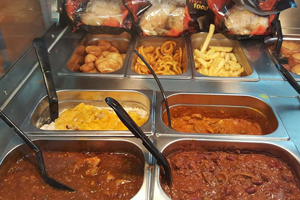 We pride ourselves on offering something different to the community, and here at Saltburn we do exactly that. We have a dedicated team, preparing delicious hot and cold food to take away. Each morning they cook off fresh bread, pies and pasties, some of which are made on the premises. Homemade egg and bacon quiches have been a big hit! They also cook off fruit pies; family and individual apple pies, family cherry pies and family apple and blackcurrant pies.
We offer cooked chickens, portions of chips, curly fries and roast potatoes, along with jacket potatoes with a range of fillings:
Chinese chicken
Coronation chicken
Crab salad
Prawn mayonnaise
Chicken and bacon mayonnaise
Tuna mayonnaise
Chicken tikka
Mixed cheese and onion
Homemade Coleslaw
Cheese
We offer hot baguettes filled with roast pork in gravy with stuffing, or roast beef and onion in gravy. We also offer a wide range of hot sandwiches, which include:
Bacon buns
Sausage buns
Sausage and egg buns
Breakfast bun
Bacon, sausage, egg and black pudding
Steak and onion bun
Burger in a bun
Chicken fillet in a bun
We also make daily a range of hot meals; we usually cook four meals a day from a range that includes:
Curry
Lasagne
Beef stew and dumplings
Chicken and bacon pasta
Sausage casserole
Pasta bolognese
Cottage pie
Spicy sausage pasta
Chicken chasseur
Mince and Yorkshire puddings
Chicken parmesans
All served with chips, roast potatoes, curly fries or a jacket potato. We also offer these in a microwaveable container so you can take it home and eat it later.
Check out our facebook page SPAR Saltburn for today's menu.
We make a selection of fresh cold sandwiches daily, or we can make you one to order, in any combination you wish, with or without salad, brown or white bun or baguette. The options are endless.
You can have any of the fillings for a jacket potato, or any of the cooked meats we stock:
Cooked ham
Roast pork
Roast beef
Cooked turkey
Corned beef
Come and visit us today for fine quality meats and all your weekly shop. All our details are on our contact us page.